FOUR QUESTIONS TO FRAUKE GATHOF
In an interview, Frauke Gathof reveals what Maasai jeweljery says about the person wearing it, and we find out how "typical" the colourful beaded jewellery really is


WELTKULTUREN NEWS: Frauke, you're a research assistant in the Africa department. What are you working on at the moment?
FRAUKE GATHOF: As a research assistant, I work in various sections of the museum. In addition to looking after the Africa collection, I research topics for upcoming exhibitions and current projects. Right now I'm primarily concerned with the exhibition project 'Invisible Inventories: Questioning Kenyan Collections in Western Museums', which is part of the International Inventories Programme. This is a cooperative project involving artists from Kenya and Europe, the Nairobi National Museum and the Rautenstrauch-Joest-Museum in Cologne, exploring the issue of collections of Kenyan objects in museums in the Global North. As well as setting up a database, the exhibition in the three participating museums are pivotal for ensuring that the issue really comes to the fore and is accessible for the general public. Here at the Weltkulturen Museum, we – the Africa curator Leonie Neumann and I – have researched the provenance of selected objects in our collection. These included Swahili jewellery, a special kanga, and a Maasai shield. Moreover, there are examples of Maasai jewellery in the Frankfurt collection. These will be going on show in the exhibition 'Green Sky, Blue Grass', providing the perfect opportunity for me to do some research on them too.

Men's band for the upper arm. Maasai, Kenya. Leather, glas beads, shell disc. Collected by Dr. Johanna Agthe, 1974. Collection Weltkulturen Museum. Photo: Wolfgang Günzel


WKN: And what did you find particularly interesting while researching beaded jewellery for the exhibition 'Green Sky, Blue Grass'?
FG: Maasai beaded jewellery has many different facets and histories, that is what makes the objects so fascinating. One interesting thing is that the selection and arrangement of the colours for a decorative piece, as well as the ornaments as a whole, reveal various characteristics of the wearer – such as the region where they come from, their kinship relation, their social status, sex, age, and much more. Each Maasai sub-group has its own preferences for colour and design, and certain ornaments are only worn by people in a particular age group, or by married women, or women whose son is a ilmurran (warrior). This makes it possible for other Maasai to interpret the wearer's social status and their belonging to a certain group. They're social objects rather than fashion items. At the same time, the arrangement and combination of colours is traditionally subject to very strict rules. The fact that each section has particular preferences doesn't mean that there is complete freedom to select the colours.
The other exciting aspect is the history of the beads: today images of Maasai men and women adorned with beaded jewellery are widespread in many parts of the world. These ornaments made of small, colourful glass beads are regarded as 'typically' Maasai. And it is true that they are an important part of material culture and a key means of identification. However, beaded jewellery only became prominent in the early 20th century. Large quantities of mainly European exports were shipped to East Africa, where they were integrated into local trade. While glass beads, predominantly from India and Venice, had previously been traded in East Africa, they were extremely expensive. Consequently, the Maasai tended to use metal beads for their jewellery. Metal jewellery was, however, much less expressive than the later beaded jewellery. Paintings on warriors' shields became a powerful means of identification instead, making it possible to distinguish someone's regional and family background as well as their social status. But around the turn of the century, the colonial governments – this was Great Britain for Kenya, and Germany for Tanzania – ordered the entire population to disarm. Consequently, shields were no longer permitted to be carried in public, and so the Maasai sought a new way of identifying themselves to others. Glass beads were popular around that time, and their low price made them accessible to a wide market. And so the Maasai integrated them into their material culture and injected them with new meanings.
Armband and belt. Maasai, Kenya. Leather, glas beads, metal spirals. Collected by Dr. Johanna Agthe, 1974. Collection Weltkulturen Museum. Photo: Wolfgang Günzel


WKN: Let's go back to colour, which is the main theme of this edition. The colours and the way in which they are arranged are subject to a particular order. Can you tell us something about that?
FG: The Maasai mainly use the colours yellow, green, red, black, blue, white and orange for their beaded jewellery. Specific colour sets form the basis for the combination of colours on an ornament. They determine which colours can be used, and in which order. In addition to the classical combination of white, red and black/ blue, there are generally several pairs of colours in each set. These comprise a 'strong' colour (red, black or blue) and a 'weak' one. The aim here is to produce maximum contrast, which draw the viewer's attention. As two 'weak' colours such as yellow and orange have less contrast than blue and orange, for example, neither two 'weak' colours nor two 'strong' ones may be placed directly adjacent to each other. This principle of unifying opposites reflects basic notions of how the Maasai order the world in social terms. Ideally, there is a link between imbalances such as man and woman, day and night, the right hand and left hand. Here too, one part is always dominant. Yet both partners are dependent on each other; they supplement each other and form a whole (for instance, in the way tasks are divided between men and women).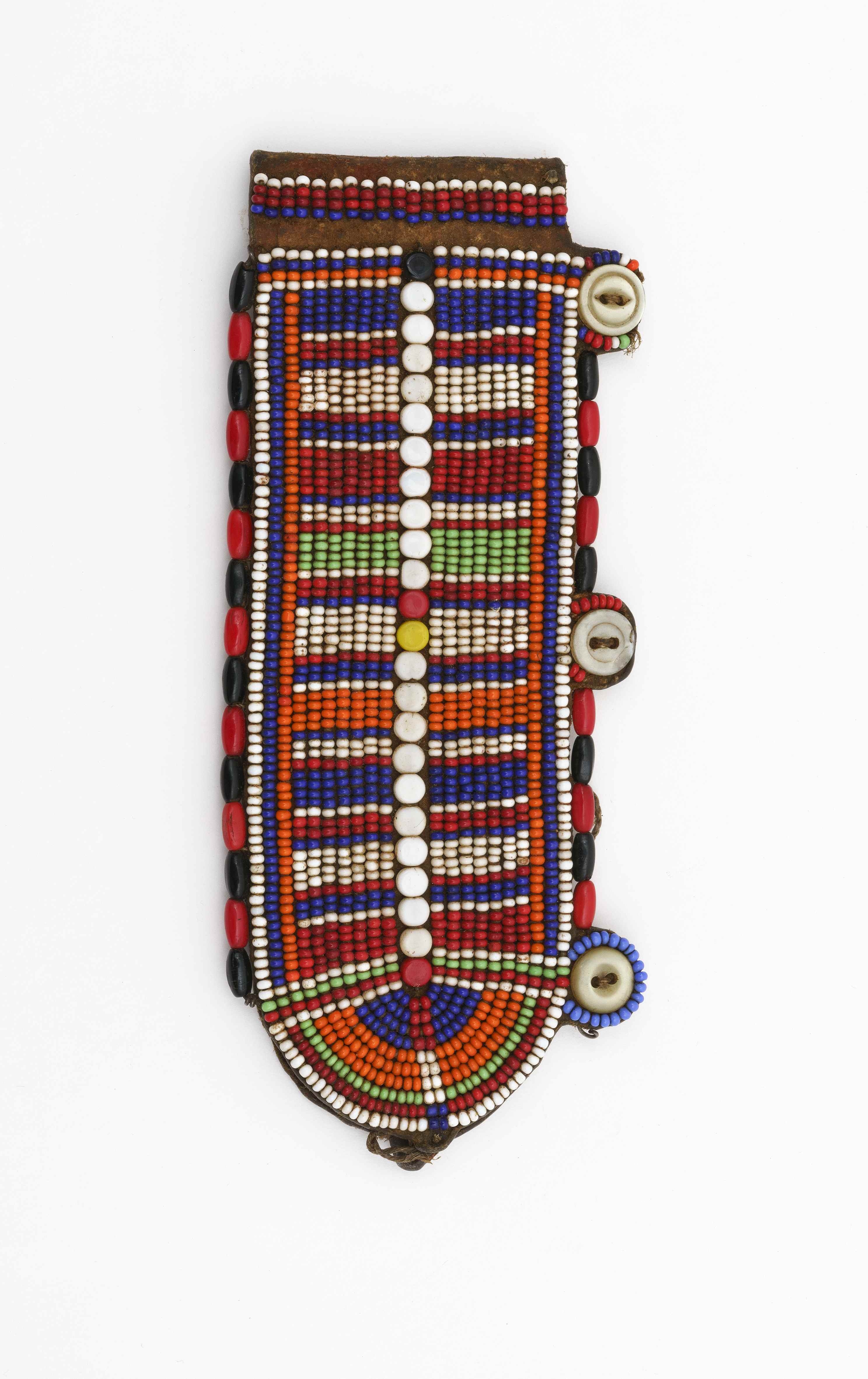 Earband for women. Maasai, Kenya. Leather, glas beads, buttons, fibre band. Collected by Dr. Johanna Agthe, 1974. Collection Weltkulturen Museum. Photo: Wolfgang Günzel


WKN: The Maasai are well known, at least here in Germany, from numerous novels and films – no doubt this familiarity and the image thereby conveyed has contributed to Kenya and Tanzania being marketed as tourist destinations. What role does tourism play there today?
FG: The contemporary image of the Maasai in the Western world frequently relies on perceptions of the group's supposedly traditional (semi-)nomadic pastoral way of life. The Maasai farmed cattle, goats and sheep and lived from their products. Over time, just like other societies they adapted to social, political and climatic changes and found new ways of representing themselves and developing new sources of income. In recent decades tourism has snowballed as a new economic sector in Kenya and Tanzania. One way for the Maasai to make the most of this is by producing beaded jewellery not just for family members or friends, but also as items for sale. The stereotypical popularity of the Maasai as a 'typical African group', which is enhanced by books and films, has led to a huge demand for Maasai jewellery as a popular souvenir – and the Maasai knew how to exploit this familiarity.
The sustained commercial success of these beaded ornaments has led to an expansion of the economic sector as a whole, particularly in the cities. To some extent, the jewellery has lost its social and personal significance and its design has become more closely aligned with market preferences. Today, the jewellery is often only worn for specific occasions or purely as fashion. Nonetheless, people still know about the defined colour sets. At the same time, selling the jewellery offers Maasai women – who make the items – a greater degree of independence. By selling their jewellery these women receive their own income and hence greater autonomy.
WKN: Thanks, Frauke
---
Bio
Frauke Gathof has been a research assistant in the Africa department of the Weltkulturen Museum from 2019 until 2021.

The interview appeared in Weltkulturen News 04 (April - September 2021). You can subscribe to the current issue of Weltkulturen News free of charge here: